Well, what a week. I had my second track day at the Streets of Willow at Willow Springs on Thursday. Absolutely brilliant!
I had been feeling "the night before the first day of school" butterflies about the day all week, which I found really strange as I never get butterflies or nervous about very much at all. I had prepped the Atom as far as all fluids, tyres, etc., and was really looking forward to a massive "learning day", rather than to set the World alight. As you can see I was joined by a whole group of Ariel Atoms.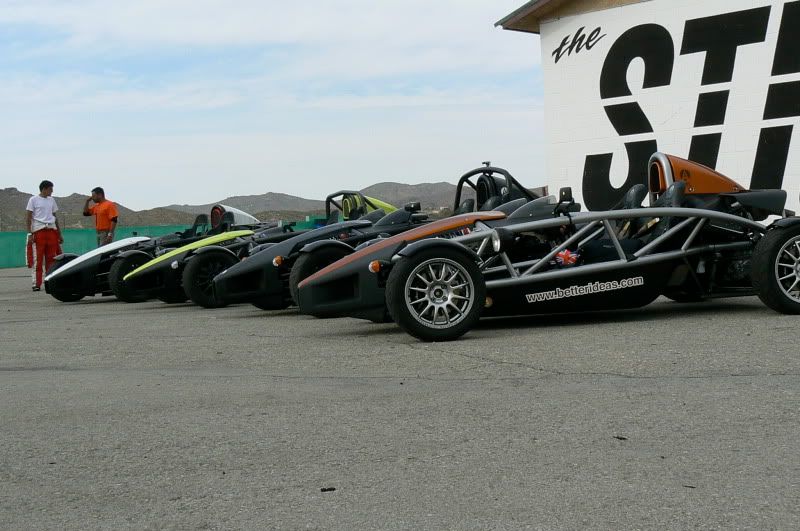 The track day was organized by SECTOR 111 It was the first time I had met Shinoo of Sector 111. Shinoo's brand new Ariel Atom 3 was delivered to the track. Sector 111 are now the authorized dealers for the Ariel Atom in California. If you want to know more about owning the Atom in California, therefore, simply click the link to SECTOR 111 and you'll get all the information you need.
Mark Swain and Shawn from TMI had made the trip across from Virginia to be at the track day and also to be at an open house for Sector 111. TMI are the licensed manufacturers for the Ariel Atom in the USA. Mark and Shawn were fantastic to talk to. They answered any and all tech questions, gave great pointers and then Mark (who has probably more track time in Atoms than anyone) sat in the right seat with me so I could show him just how slow I was!
As I said, I was there for fun and to learn and I managed both. Mark debriefed me and gave me some solid things to focus on for when I go back.
It struck me as incredibly cool that Mark and Shawn would give so much time and energy, even though TMI had not made my Atom! TMI are an excellent company and their attitudes and integrity shone through. The construction, marketing and management of the Ariel Atom in the USA is plainly in extremely good hands at TMI. Click on the link HERE to find out more.
The Guys were here from TMI to accompany the delivery of Shinoo's new Atom 3. This is a really "sorted" car. There are things I like better on mine, like the Sparco seats, but overall, there are noticeable improvements and it really looks "the business". Mark took me out for a couple of demo laps.
Children may read this blog, so I wont type what I said as we went round the track. It was like being in an Atom for the first time – simply mind-blowing, stunning, incredible! To be in a brand new Atom, where she belongs in the hands of someone who could take it to the limit was extraordinary and makes me even more determined to make much more of mine!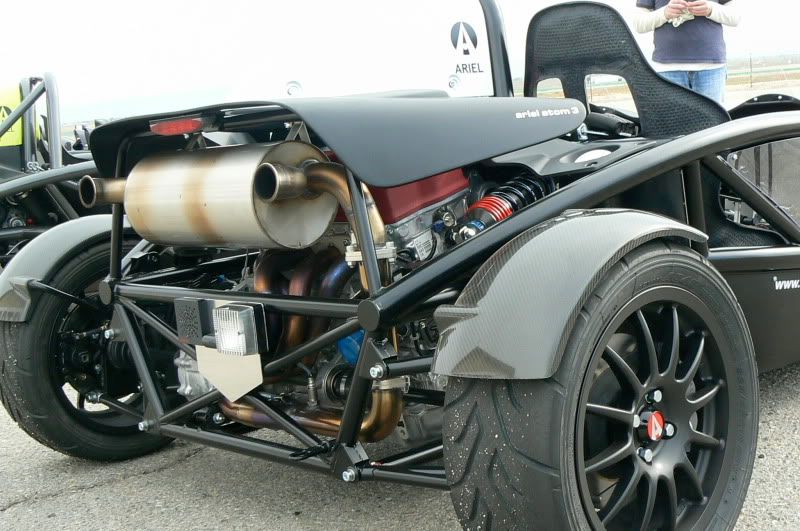 My friend Nick then came out with me and with excellent use of hand signals showed me the braking, turning and shifting points. I was so far off, it was amazing. I was braking way early and "gently", turning in early and just generally getting nowhere near the limits of the car.  I think I was so off as a combination of a sub-conscious preservation order for my Atom, that I was much more used to lines of fast bikes and the fact that I needed to just grow a pair!
Nick then took me out in the right seat in his. Again, stunning! The braking points were way beyond where I considered "crashing points" would be! He is really good and the track time and coaching he has had shone through.
It was fantastic to feel the capabilities of the Atom and I am absolutely determined to get way faster. I know that thanks to what Nick and Mark showed me, I will be able to improve hugely next time. I need to trust the brakes much more than I was and I'm sure that will rapidly improve.
The fees for the track day, the mileage to and from the track and other miscellaneous expenses are all tax deductible for me thanks to my home-based business. That means basically that Uncle Sam paid for my track day and is paying for me to own an Ariel Atom. If you are not taking advantage of the tax deductions available for having a home-based business, why on Earth aren't you? They cost next to nothing. The effort you put into them is up to you, but the advantages are extraordinary.
Click on the image below if you'd like to find out more.